Jr. Apprentice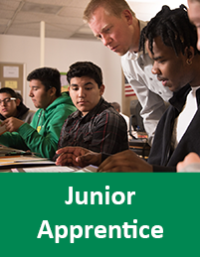 This program is administered by JA of Southwest New England
Implementation:
Virtual
Pillars of Student Success
Financial Literacy
High Financial Literacy
Entrepreneurship
High Entrepreneurship
Work Readiness
High Work Readiness
Developing the Next Generation of Talented/Trained Workers to meet Business Needs
Career Education + Work Experience = Engaged, Employable Teens
Jr. Apprentice
(JrA) serves as an education to employment link designed to enhance and strengthen student motivation to graduate high school with robust pathways to a successful work life while simultaneously breaking down barriers youth face in the job market. It is a year-long work-readiness, entrepreneurship and financial literacy initiative for inner-city Hartford students that involves weekly training, off-site experiential learning at businesses and institutions of higher education, and culminates with each student earning a paid internship at a local business.
Jr. Apprentice
aims to achieve impact in both the short and long-term by:
- Preparing engaged, career-ready teens: as an apprentice, a teen develops skills in a career path they find meaningful and financially stable.
- Building relationships: we've all heard the phrase, "it's all about who you know". Apprenticeships encourage a mentoring relationship between teens and working adults. These relationships also expand a teen's network of adult role models and advisors.
- Fostering connections between local professionals and the future workforce: Apprenticeships close the gap between school and career. They allow current employers to develop the local workforce and attract high-caliber talent to their industry.
Alignment with State and National Standards
Request a Presenter to Teach Curriculum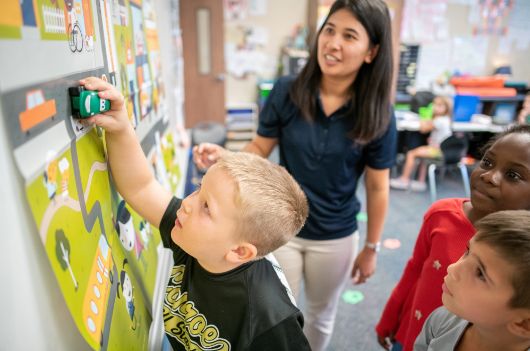 Junior Achievement lessons are delivered by volunteers from the community. These presenters are prepared by JA to facilitate engaging learning activities that focus on financial literacy, work and career readiness, and entrepreneurship. This results in an enriched learning experience that helps students make the connection between what they learn in school and the world outside the classroom.
Steps to Request a Presenter

1) Request Info
Once you've decided to have a JA volunteer in your classroom, fill out the form on this website. You will receive information on next steps.
2) Pick Schedule
You will be able to coordinate a schedule that works for your class either online or in conjunction with a JA representative.
3) Meet Presenter
Once a volunteer is identified for your class, JA will connect you with the presenter to discuss roles, expectations, and logistics.
4) Empower Students with Standards-Based Education
After all details are in place, the JA volunteer will deliver lessons to your students either virtually or in-person.