JA Volunteer Spotlight: Ashlyn Lower, Star Supply Company
Author: Jacqueline Lombardi
Community Involvement
Published: Thursday, 05 May 2022
---
Sharing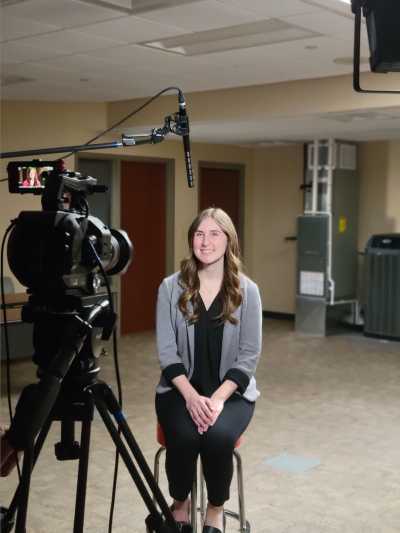 Image caption: Ashlyn Lower, Star Supply Company
Q: What is your connection to Junior Achievement?
A: Did you know there is a correct way to eat bread? I certainly didn't. Imagine being 19, a junior in college and learning that not only is there a correct way to eat bread, but you will also be graded on how well you do it. Sounds crazy right? Maybe it was crazy, but truthfully, I credit that moment as a turning point in my professional life.
Before meeting Dr. Celia Lofink, I never thought I would have to learn about the mechanics of a lunch meeting or the skills to network properly – that is just eating and talking right? Without the guidance from Dr. Lofink, I would not be the same person I am, professionally or personally. I became a more confident leader, team member, and individual. My experiences with her jumpstarted my career, and when I learned about an opportunity to volunteer with Junior Achievement, an organization Dr. Lofink was incredibly passionate about, I knew I had to pass along my experience just as she had done for me.
Q: Where do you currently work and what do you do there?
A: I currently work for The Star Supply Company, a family-owned HVAC distributor in New Haven, CT. My role is labeled marketing, but I get the opportunity to work on and work with almost all aspects of the business, so it is kind of a catch all term for us. This experience so far has taught me countless things and my boss, who has quickly become my biggest supporter and mentor since starting here, has always encouraged me to bring new ideas to the table. So when I brought up volunteering for mock interviews with Junior Achievement, I thought it was a no brainer. But this was not something the company had ever done before.
Q: Tell us more about your JA Volunteer experience – what was your favorite part?
A: The mock interviews were being hosted virtually at Coginchaug Regional High School in Durham, CT, where I went to high school, so I was really passionate about giving back and having a trade presence at this event for students who were not interested in going to college. I wanted the opportunity to share what I learned in college and now in the trade with the next generation of people. With some convincing, Star Supply Company signed up to participate! Internally, this gave me an opportunity to learn how to interview someone and the mechanics of asking the right questions and redirecting if I didn't get the answer I was looking for. The process was great. Everyone at Junior Achievement was so helpful and the event went really smoothly. I got great feedback about how I interviewed the students and I was able to provide detailed feedback to the students on their resumes and interview skills. It was truly rewarding for both me, as a volunteer, and for the students!
It is hard to narrow down the best part of the experience, but if I had to, it would be the initial conversation I had with my boss immediately after the interview with one of the students, Jake. We were both so impressed with his accomplishments and his professionalism that we were determined to find a way to bring him in for a real interview, to give him a real life job opportunity. I reached out to get his contact information and just like that, he was here, live and in person, for an official interview. Jake sailed through the interviews, clearly showing he took the feedback he received during the mock interview seriously and incorporated it. He quickly had a start date shortly after his high school graduation.
Q: Why should others volunteer with JA?
A: The power of mentorship is real and Junior Achievement gives you an opportunity to support students as they navigate the next steps for their life. It is a personally rewarding experience that can have real tangible impacts on the students you engage with. Everyone needs a mentor, whether they are teaching you how to improve your interview skills or how to eat bread the right way, a mentor gently nudges you along and supports you in becoming the best version of yourself that you can be. By volunteering with JA, you get to be that person that makes a difference for a student or many students while also learning and growing from the experience yourself. It is a win-win and I couldn't recommend it more!
Thank you, Ashlyn, for being part of the JA family and making an IMPACT!