JA Helps Build Career Paths
Author: Ashlyn Lower
Financial Literacy
Published: Wednesday, 25 Jan 2023
---
Sharing
From First Jobs to Boardroom in the NFL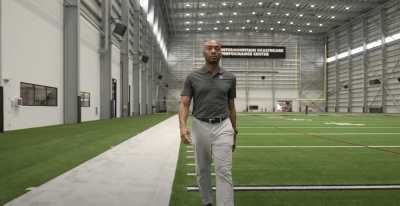 Image caption: Michael Crome on Raiders Field
Michael Crome credits his Junior Achievement (JA) experience as one of the key moments that led him to pursue a career in the finance industry. In 11th grade, he had an African American volunteer who was an accounting professional teach his class the JA curriculum. Crome talks about the importance of seeing someone who looks like him in a role he had not considered before, truly demonstrating the power of JA volunteerism.
Years later, as Crome's career has progressed to the point of being the Chief Financial Officer for the Las Vegas Raiders, he continues his relationship with JA by being a volunteer. He's also served on the JA board of directors in Las Vegas and even ran the World Marathon Challenge to benefit JA.
The impact of JA's programs is unmatched and necessary to find and inspire the next Michael Crome. Exposure to volunteers' students can relate to, in careers or industries they may not have considered, can change a young person's life. It did for Michael Crome. By volunteering with JA (make that a link), you have the power to make a difference in someone's life, too.