JA Responds 2022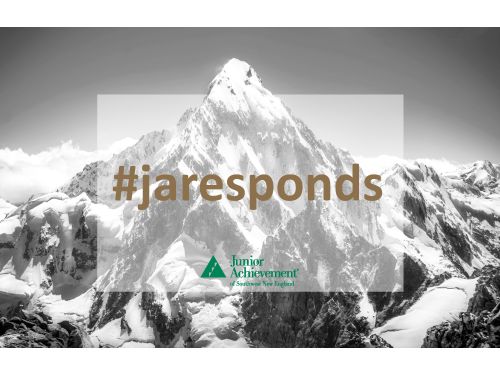 Event Completed!

When: Thursday, March 10, 2022
Where: Virtual
Time: 12:00 PM ET
As the world approaches the second anniversary of the pandemic, Junior Achievement of Southwest New England remains focused on the wellbeing of the students we serve in Connecticut. Students from pre-school through college continue to be directly impacted by variants of the virus and its chokehold on normalcy.

During our next roundtable discussion, #jaresponds will explore the social and emotional impact of COVID on students and educators. They are stressed, feeling isolated, and in many cases are dealing with depression and anxiety. What can we do to help?

Join us on March 10th at noon as Junior Achievement discusses the challenges schools are facing and seeks a better understanding of how the community can best support students' emotional well-being during this difficult time.

Moderator: Brad Drazen, Vice President, Communications and Marketing, Hartford Foundation for Public Giving

Panelists:
Michelle Santos, PhD, Division Head, Pediatric Psychology, Connecticut Children's

Dr. Fallon Daniels, Executive Director of Post-Secondary Success and Alternative Programming, Hartford Public Schools

Brenton Coates, Student, Enfield High School

-
JA RESPONDS is a series of round table discussions aimed at engaging local voices in problem-solving and thought leadership. We will feature local parents, students, educators, business leaders, and community members who believe in the mission of Junior Achievement and are committed to creating a better future for young people in Connecticut and beyond.

Round Table Topics will be announced on an ongoing basis with registration going live three weeks prior to the event. Attendees can pre-register for the event, which will be hosted on Zoom, or can tune in to a live-stream on the JA Facebook Page.
JA Responds Mind the Gap: Disparities in Education
JA Responds: Are we Better? A Discussion on DEI Efforts in the Community
JA Responds: Hindsight is 2020
JA Responds: Mind the Gap - Solutions in Education
JA Responds: The Effect of Distance Learning and What's Next
Become a Sponsor!
Sponsorships for these events are critical for Junior Achievement to continue providing life-changing programs to students in our community. These programs are delivered at no cost to students. You can make a difference in the lives of these students by participating in this world-class event!
Contact us
to get more information on how to sponsor a JA Event!